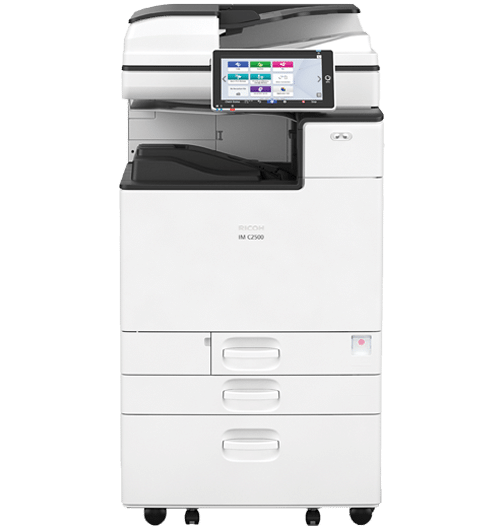 We Make Solutions Work for You!
Technology is About Helping Your Company with Efficiency
We work with companies to help improve their efficiencies by using the power of our team.  We have copier and IT specialists to ensure the technology you get from us will help your team be more efficient for years to come.  We learn about automation and systemization to ensure your company has all of the tools you need to thrive in a competitive marketplace.
Pairing technology with the expertise of a global business partner like Ricoh ensure you not only get the best technology, but also the experts to help your team learn to use the technology.
Copier Training
Scan to Network Included on Most Machines
Connecting to Cloud-Based Services
Ease of Use for Common Business Applications
We know fighting with a copier to print or scan is not what companies are looking to do.  We help your Philadelphia area business thrive with world-class solutions installed by techs who have helped hundreds of companies just like yours.  We are here to help you get the most value for your dollar.
Copier Leasing in Philadelphia
We help you find the perfect copier for your business!
Optional FMV or $1 Out Copier Leases (and we can explain the differences!)
Lease Buyout Options - If you have a copier not working well today.
Pay per Print, not per toner with our service plans
Save Paper and Costs by Utilizing the Eco-Friendly options like duplex printing and application defaults.
Get the Options on 3, 4 or 5-year leases
Bundle your copier with Managed IT Services
Why Choose Us For Your Next Copier?
We are here for you.  We take the time to get to know our clients and how technology can help them get the most out of their office equipment.  We are not here to merely lease you a copier, we are here to be your long term partner on your copier for years.  If you want to work with a team that has your back, we are here for you.
We work with a major brand, meaning you will always have the sales and the engineering support for your copier.  We are able to get aggressive manufacturer deals and have our technicians trained on the full line of Ricoh products.

We sell more than just the small desktop units.  We sell all the way up to Ricoh production copiers.  Some of the higher end models we can sell are the Pro 8310s/8310/8320s/8320 the Pro C9200/Pro C9210 Pro C7200 Pro C7210S/C7200S/C7200SL Kodak NexPress ECO2500/ZX3300/ZX3900 Pro C5200s/Pro C5210s and other high end presses.

We don't just ship a copier out and tell you to make the best of it.  We are local and invested in the success of our clients.  If you are looking for a local partner rather than a national or international corporation to do business with, check us out!
We partner with some of the best technology names out there.  Here is a small sample of our main partners!


We get it!  Sometimes you just want to call or chat directly.  We want to hear from you!