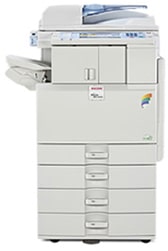 Has your small business been growing fast? Are you ready to make a big investment in your business that can help with your professional image and efficiency? Maybe your current copier lease is about to run out and you find yourself ready to take the plunge and buy your own Ricoh copier this quarter.  We are one of the largest independent Ricoh dealers in Philadelphia and humbly ask that you choose us when you decide to purchase your Ricoh copier for your growing business.
Ricoh has been in business for over 50 years and that means their products are top of the line and are at the forefront of the latest technology. No matter what type of business you run, we have a copier solution for you! Do you need to have a multifunctional copy machine that has fax capabilities? Do you need a scanner, color copier or large document production machine? We have the Ricoh copier for you and will spend the time it takes to help you make the best choice with this big purchase for your business.
Why trust just anyone with such a big investment? We have the experience and knowledge to ensure that you get the best Ricoh copier machine for your money. We will spend the time it takes to learn about you, your business and your copier equipment needs. Give us a call today!