There are so many things to think about when signing a copier lease. It's often difficult for new leasers to know what the important things to pay attention to are. Copier leasing companies know this and use it to sneak in passages that benefit them at your expense. One of the most common places that we see this is with copier shipping.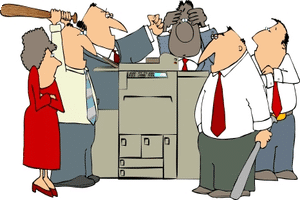 When your lease is over you will need to get your office copier back to the leasing company. This is usually not something that the leasing company takes care of. They also know that many people do not know this. We have heard of so many people that plan on their company grabbing their copier without problems, but are then stunned when they find out that they need to hire someone to ship it.
Copier shipping can be expensive. The longer that you wait the more costly that it will be. This is why we suggest figuring out your shipping plans before it's too late. Last minute shipping plans can cost you hundreds more than scheduling early.
Companies know that you may not be able to pay for copier shipping if you waited until the last minute. They will use this to offer you a "deal." They will ship your copier for free if you sign another lease with them. It might save you money, but it shows that the company will manipulate you for their gain.
Watch out for copier shipping in your copier lease. Paying attention to the small details can save you a lot of hassle later on.