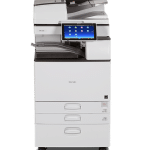 The Ricoh MP 6055 is a black and white laser Multifunction Printer (MFP) perfect for most office applications. It can print, scan, copy, and fax documents and pictures in black and white. 

Printing
Beginning with the printing speed, the MP 6055 can print up to 60 pages per minute. This printing speed is suitable for a fast-paced working environment, such as an office or a medical facility. In addition, the maximum print resolution is 1200 x 1200 dpi, which is ideal for most pictures and documents. 
RAM
The system features 2 GB RAM paired with a 320 GB HDD that is shared across components. What this means for you is that the Ricoh MP 6055 can handle multiple prints, scans, and copy jobs separately. 
Paper Capacity

Additionally, it has two trays that can hold 550 sheets each and a bypass tray with a max capacity of 100 sheets. This brings the total paper capacity to 1,200 sheets. With the Side LCT and Tandem LCT, this number is increased to around 4,700 sheets. And the output tray can hold 500 sheets. 
Security

When on a shared printer network, security is everything. That's why the MP 6055 has multiple security features. These include HDD encryption so that no one can spy on your data. There's also IP filtering, so only authorized computers can access your data. Along with that, you get many other features like LAN encryption.
Energy Rating

The Ricoh MP 6055 has a Gold EPEAT rating. What this means is that the MFP makes the best use of energy and tries to save up as much as it can. In the long run, this means lesser office electricity bills and more savings. 

If you would like to buy or lease the Ricoh MP 6055, contact Copier Philadelphia today!