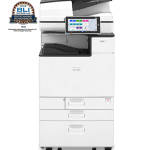 The Ricoh IM C6000 is a Color Laser Multifunction Printer (MFP), designed for fast-paced offices that consist of small to medium-sized teams. 
Printing and Scanning

This MFP can print up to 60 pages per minute and has a printing resolution of 1200 x 1200 dpi, an ideal choice for most print jobs, especially for documents. The IM C6000 can scan directly to email, USB, a folder, or an SD card as a scanner. The scanning resolution of 1200 dpi.
Paper Capacity

The IM C6000 has a paper capacity of 1,200 sheets. This includes two trays that can hold 550 sheets plus a 100-sheet bypass tray. But with the Tandem LCT and a side LCT, you can increase that capacity to up to 4,700 sheets. And the paper size ranges from A5 to A3 (11×17). 

Energy Rating

You don't have to worry about electricity consumption considering that it has an EPEAT rating of Gold. The MFP meets all the required criteria and at least 75% of the optional criteria. In other words, your Ricoh IM C6000 makes the most of every bit of energy it uses. 
Security

Security is a major concern for most people with copiers. But with the IM C6000, you can relax knowing your information is in the right hands. In addition, the Ricoh IM C6000 features HDD encryption, user authentication, and much more. All of these security features ensure that your data does not get breached. And that your sensitive documents remain confidential.
This is one of the best MFPs for everyday use in an office with a medium-sized team. It's highly recommended for applications that require quick copying and printing as well as emails. 
To lease or buy the Ricoh IM C 6000, contact Copier Philadelphia today.