Getting a used copier doesn't have to be a scary experience. In fact, getting a used copier for your business can be a great way to meet  your print and copier needs without breaking through your budget. Used office machines can give you the opportunity to get exactly what you need for your business without having the worry of being on a lease or the price of a new machine.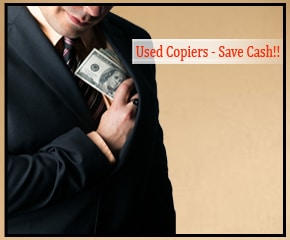 It's not unusual for people to get nervous about getting a used office machine. They are concerned that they are going to be stuck with problems that someone else didn't bother to take care of. This is not a concern when you work with our amazing team.
We dedicate ourselves to your happiness and the success of your business. Our team takes the extra time to make sure that your machine is in working order before it arrives at your workplace. We work only with the most responsible businesses when considering making the move to a used machine, and always have our technicians check out the machines before we show them. This helps to make sure that whatever used copier you choose for your business is going to work the first time around.
You don't have to be worried when you get a used copier from Copier Philadelphia. We take pride in all of our used copiers and we want to do whatever we can to help your business succeed. Give us a call at Copier Philadelphia and speak with one of the great members of our team. Together, we can help your business get to where it needs to be.